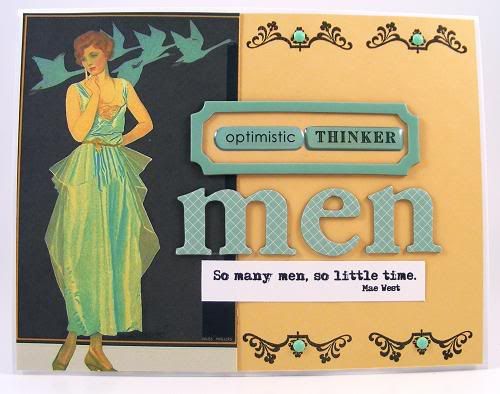 I can't believe the last time I posted on my blog was December 1st. Well, if I stop to think about it....maybe I can believe it. :) My December was busy, busy, busy. With all the extra Christmas goings on, I did not have much time to craft. The few things I was able to complete, I couldn't show. :) To get back on track, today's card is just one for FUN. It fits the bill for two challenge sites.
365 Cards
challenge for day 303 is to have at least 3 flourishes on your creation. The
Charisma Cardz
challenge is to do anything--but Christmas. The great vintage image is by
Lunagirl
from one of their image CDs. The chipboard and rubber stamp is by American Crafts. The epoxy stickers are by K&Co.
I put all the Christmas decorations away yesterday. I survived another Christmas! How about you? :)